The competitive holiday hiring season is already underway, and it will be a challenge for recruiters to navigate the uncertain and choppy waters that COVID-19 is throwing into the mix. As you don your rain gear and prepare your team for the waves of November to January, we sat down with a trio of our sales specialists and one guest expert to garner a few ideas, insights and trends that might help you weather the storm and come out the other end still above water!
Want to build the best approach to this holiday season? Read on!
Know Your Seasonal Job Seekers' Needs and Motivations
When it comes to grabbing the attention of those seasonal job seekers during the intense holiday months, it's best to know all you can about their needs and motivations so you can hook them in before the competition.
The context of their situation driving them to look for jobs at this time of year will likely be three-fold.
In a rush and on the go!
Job seekers during the months of November to January are moving fast. They're looking at and applying to many jobs, often while on the job. They're tech savvy and mobile so they're applying everywhere to find the best job of the bunch. Plus, their options are almost limitless with the amount of jobs available to them and the high demand in certain industries (read on for more on these trends). What does this mean for you? Act fast!
Fast cash and perks win the day.
These seasonal workers are looking for fast money. "They're going to look for things like daily pay options, if possible," says Michael O'Dell, Talent.com's Managing Director–US. So, all the benefits you can offer will be key in snagging that talent. Whatever competitive edge might help grab the attention of these swift swimming job hunters should be showcased in your job postings.
Apply as Easy as 1-2-3!
While on the go, candidates have no time or patience for complicated application processes. So, the best philosophy would be to keep it simple and speedy! Thinking of asking filter questions in your application process? Maybe not the best idea at this time. O'Dell describes an example of how one Talent.com client complicated their application process by adding one extra detailed screening question and ended up with "30% less efficiency in their application process and having to spend 30% more money for the same amount of interaction." If seasonal candidates are looking to get a job quickly while out and about, an easy apply process with few reasons to drop out of the application flow will be key for attracting and retaining their attention.
How Best to Attract Seasonal Job Seekers

With a few insights into how job seekers are behaving, it's time to line up the contingency plans for casting your nets to catch these fast-swimming job hunters in the current context we're all living! According to O'Dell, there are three basic scenarios to plan for this pandemic year. The first, COVID "rears its ugly head" and makes a total mess of things. Second, the virus stays in check and things proceed in a relatively normal fashion. Third, we get a vaccine "then probably things accelerate, the economy grows, people go out and buy a lot more and consumer confidence is up; The hiring will continue through January and February at high budgets. But it's still a big 'who knows' until we know what's happening with COVID."
While lining up your plans A, B and C, you should also line up a great team who can help you respond to applicants more quickly. Since you know they're in high demand and looking at multiple jobs, "if you let them sit on the shelf for two or three days, they're already working somewhere else," says O'Dell. With so many job seekers out there looking and the intensity of the competition, your resources need to be ready. "If you're going to cast a wide net, you're going to catch a lot of fish, so make sure you have a lot of people to clean the fish," says O'Dell about quickly responding and moving applicants through the recruitment process.
While you cast your net, make sure it's the most enticing net out there, too. "Knowledge of compensation is key" says Daniel Kijewski, Talent.com's Director of Enterprise and Staffing. In industries like retail or delivery, "50 cents could be the difference between being a leader or a loser," he adds. If you have a competitive salary to offer in this tough market, Kevin Bunce, Talent.com's Business Development Director, believes by clearly stating salary, bonus or benefits on the job, you are more likely to attract and engage job seekers.
Also, showcasing how your company is going above and beyond with COVID safety measures could give you an extra competitive edge as you demonstrate how you will keep your employees safe, adds O'Dell.
Choose Your Distribution Channels and Traffic Sources Wisely
With a little more insight into the motivations of seasonal job seekers, now you can look at your diverse advertising channels and begin talks with your partners and vendors on which to prioritize so your jobs are more visible to the right candidate pools.
Knowing seasonal job seekers are mobile and tech oriented, it's time to make your jobs more visible on mobile-friendly channels. Kijewski, surmises that "the old story" of the warehouse or delivery driver worker is true, that while "the guy is on his shift in his [delivery] truck looking for a job, he's not going to have his resume on his phone to interact." With that in mind, SMS alerts or using social channels, will help you reach this dynamic "school" of talent and keep them in your application flow with an easy apply process. To do this you need to talk to your partners and vendors to better understand their traffic sources and optimize your jobs distribution channels.
Bunce also suggests that you "get included in gig sites," something easily done if you pick your jobs distribution platforms well, as they may already be integrated with these kinds of niche sites on top of their own native traffic. Bunce stresses, however, that you work with your vendors to optimize your job ads for those particular traffic channels, such as paying particular attention to your job titles.
The key takeaway is flexibility says Kijewski. "Regardless of the partner – your main focus outside of performance would be flexibility today." If you're looking for more flexibility in your recruitment channels and traffic sources, perhaps consider taking advantage of what programmatic platforms have to offer, which you can read about in our blog post "A Guide to Working Efficiently with Programmatic Recruitment Platforms."
Track the Trends
Even with all the uncertainty a pandemic brings to the job market, there is still value in looking at past years and how the holiday recruitment season behaved between 2018 and 2019 to help you prepare for 2020. We looked at three main metrics of data—job seeker interest, average CPCs and jobs inventory—from November to January in 2018 and those same months in 2019.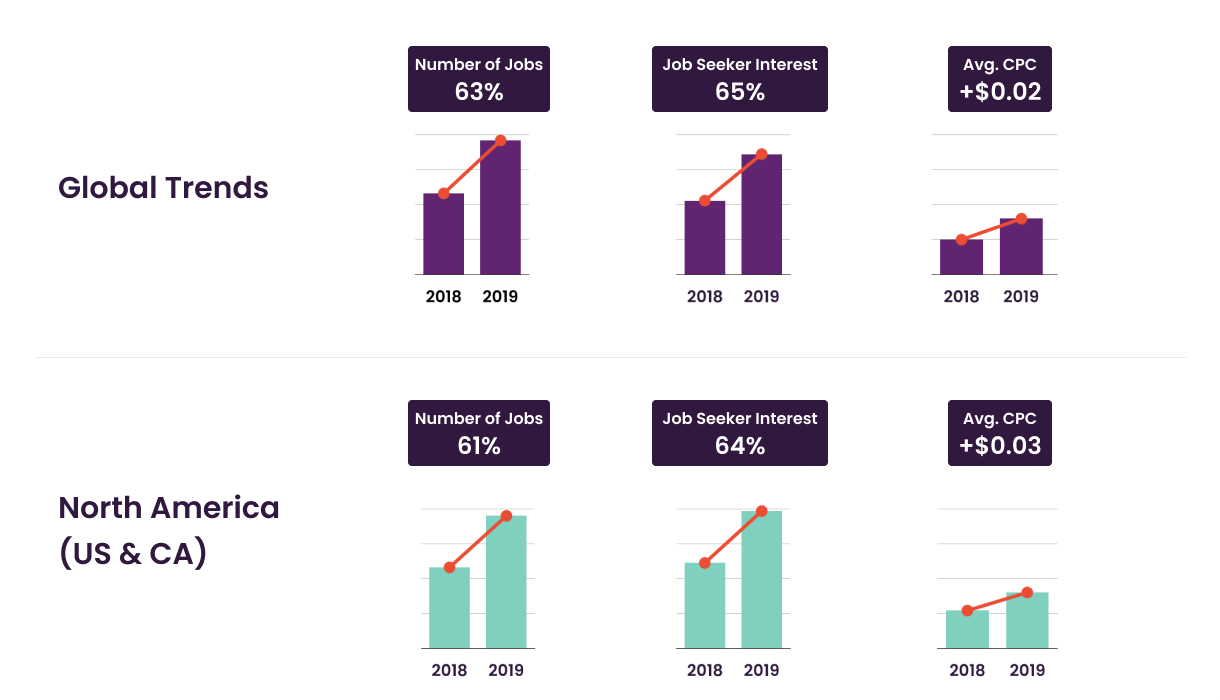 When comparing seasonal recruitment trends across different markets, we saw all three metrics increased by similar margins from the 2018 to the 2019 holiday recruitment season.
Across most international markets, job seeker interest increased by 63% while jobs inventory increased by 65%.
As a result of the stiff competition, average CPCs increased globally by 8% or $0.02.
In North America, jobs inventory went up by 64% and jobseeker interest increased by 61%.
CPCs in North America also increased by 11%, i.e. $0.03.
In the US, the seasonal jobs inventory increased by more than 5 million or 74% while in CA, the number of available jobs decreased by 23%.
Job seeker interest increased by 83% in the US and barely increased by 4% in CA.
Average CPCs increased by 7% in the US and no change was seen in the average CPCs for CA.
Warehouse and Customer Service related titles held strong in CA between 2018 and 2019.
In Canada, the title with the most clicks in 2018 was "Customer Service Representative" and "Work from Home Customer Service" in 2019.
In the US, the top titles that interested job seekers during the 2018 and 2019 seasonal recruiting months both included "Package Handler."
In 2019 specifically, "Package Handler – Part Time" won the job title race and increased in interest by 502% with a job inventory increase of an astounding 862% between the two years! It's average CPC increased by 72% or $0.33.
Other Warehouse related jobs and "Administrative Assistant" were also popular job titles in 2019 and had an average CPC around the $0.30 mark in the US.
One stand-out US average CPC in 2019 was $0.88 for the title "Driver Helper," a 31% increase from its 2018 CPC average of $0.67.
Predictions for 2020
Looking at this data and these trends from previous years, even in the COVID context there are some clear predictions to be made for the 2020 recruitment season. Not only do our experienced sales experts have a few ideas on what the recruitment season might look like, but Kristy Wen, Director of Growth Marketing at Wonolo had this to say: "Based on what we've seen this year to date, we expect higher costs to reach and engage workers this peak season. To what extent, we are not entirely sure—however, we would not be surprised if our CPA-like metrics increase by at least 20% across all major metros we service."
The Covid shift will probably mean that instead of working at the store in the mall over the holidays, workers will be at the store warehouse or in delivery trucks says O'Dell. Wen agrees noting there will be "a big shift in what companies want from their seasonal staff, where previous seasons there was a rise in demand for cashiers and in-store merchandising, there's a shift to warehousing and delivery." So, it seems like the trend of popular warehouse job titles will likely continue and increase as the holidays approach.
With the rise of online shopping, trucking is going to skyrocket in this COVID reality says Bunce, something Wen seconds: "We are starting to see e-commerce ramp-up earlier than usual and expect significant demand to move from retail to fulfillment in areas that are already worker-constrained." Kijewski worries a little for the local or smaller distributors competing against the big players who have begun to monopolize the current era, but O'Dell believes that new entrants may create more competition and even "open up career opportunities for people in more rural areas" in the US.
"The biggest challenge we expect this season is the unknown," says Wen. "With everything happening in today's environment and COVID-19, people's willingness to work tends to fluctuate frequently due to hyperlocal trends."
Stay Limber!
"Regardless of the partner – your main focus outside of performance would be flexibility today."
- Daniel Kijewski, Director of Enterprise and Staffing, Talent.com
Though we will all face a lot of questions and uncertainties over the next few months, hopefully these insights will help you better prepare for what's to come. "Q4 has always been a busy and competitive season—many businesses are looking for a different kind of seasonal help at the same exact time," says Wen. "So, there's a learning curve for everyone."
Takeaways? Go check and optimize your traffic channels and job titles keeping job seekers' perspectives in mind. Rope in some more help from your extended team to handle the influx of job seekers you will need to process. Finally, showcase all the best things your company has to offer to this ocean of applicants filling your nets.
No matter what, stay flexible and be ready to adapt to every little eddy that might affect the casting of your nets. Costs may go up, but the focus should be on maximizing value. If you can fill positions efficiently because your team is quick and you're reaching the right candidate groups, your advertising dollars will be well spent.
About Johanna Donovan
Subscribe to our blog
Get our latest blogs and content sent directly to your inbox!
Related blog articles
We're hijacking the three R's of the waste hierarchy (reduce, reuse and recycle) used to improve waste management processes and programs, and spinning...

European Wax Center (EWC) is part of a national franchise in the health and wellness industry. One of its owners, with twelve stores all located withi...

The hot topic in the HR tech industry these days seems to be Programmatic Platforms and for good reason! These are amazing platforms that can alleviat...
Subscribe to our blog
Get our latest blogs and content sent directly to your inbox!