An applicant tracking system (or ATS) is essential these days in the realm of recruitment. When you have multiple roles to post, and applications to track, the list of tasks required to manage the entire process grows very quickly; that's where applicant tracking systems come in. Most companies work with an ATS primarily for accountability and compliance purposes. In the spirit of giving equal opportunities to all, the ATS ensures that all candidates go through the same experience when applying.
Additionally, companies often need an ATS to manage the process and flow of every recruitment step, from collecting resumes to hiring and onboarding new employees. Recruiters understand candidate management as the core competency of any ATS, which helps them create an environment where every step of the candidate journey is handled.
Another major component of an ATS that many companies could learn more about and take better advantage of is the candidate attraction side of these tools. With the purpose of smoothing out the candidate journey, applicant tracking systems often have a convenient "Easy Apply" integration, but did you know that many also offer robust job distribution channel options for your advertising needs? Indeed, you can tap into a resourceful network of partners directly through your ATS by simultaneously post jobs to multiple destinations.
This article will hopefully help you better use the full capabilities of your ATS and its partner network to not only manage your candidates, but also fill your ATS pipeline with a diverse pool of candidates from a variety of sources.
Discover the Job Distribution Channels of Your ATS
Once you have a convenient tool for managing applicants, you need those candidate resumes to populate your process, which is made easier via the job distribution feature of your ATS.
"When companies post their jobs within their ATS, they should potentially have all the features for distribution through paid or organic traffic," says James Winfrey, Head of Partners and Alliances in the US for Talent.com. Sometimes companies don't realize that many of their jobs can be distributed for free through the organic traffic channels of their ATS's partners.
Depending on the type of ATS you're working with, some have job distribution as an automatic part of their set up, while others require their clients to opt-in to the desired traffic channels. It's important when working with your ATS provider to understand what integrated distribution channels they already have, and which of these options fit your needs the best. It will mostly be up to you to "raise your hand with your ATS" says Winfrey and "ask about the specific channels, general and niche, that they can offer". You should also feel empowered to bring new partners and sources of traffic to the attention of your ATS so they can look into diversifying their channels.
For example, if you have many transportation jobs to advertise for and notice that your ATS doesn't have a lot of transportation distribution channels, it's time to open a discussion! "Don't be shy to outline your specific needs," adds Winfrey. Know what your business is and make sure your ATS is distributing to your industry's niche sites so your jobs are visible to the right candidates.
Increase Job Visibility Through Your ATS's Partner Network
Now that you know the lay of the land a bit better when it comes to where you can source candidates through your ATS, it's time to test and maximize the resources at hand. Organic traffic is "a nice avenue to explore and a great place to start from a performance standpoint," says Winfrey. Then you can begin "measuring performance so you can see where you want to allocate funds for advertising," he adds.
You can take advantage of all the different job boards your ATS is integrated with by picking a good mix and seeing what they give you through organic traffic. Then you can determine if it's worth it to pursue these channels further at the paid sponsorship level. "Depending on the source, organizations can see as much as 15% additional free job views through their organic distribution," says Winfrey.
The important thing to remember is to always make "an apples-to-apples comparison," advises Winfrey. If you're going to test different job distribution channels, make sure you're distributing an even mix of jobs to each, instead of sending all your warehouse jobs to "site A" and all your software development roles to "site B," for example.

What's great about discussing which channels you'd like to opt-in to is that the set-up is usually a simple click of a button for your ATS or their partner. You can read a case study on a partnership that blossomed between a company and Talent.com thanks to the integration with the company's ATS. On a similar topic, you can also discover how the recent partnership between Talent.com and Greenhouse will enhance organizations' ability to attract talent and improve engagement strategies. If you have the option to synchronize all your HR tech, it will simplify your work and only increase your efficiency!
Take Advantage of Apply Integrations For a Seamless Candidate Experience
Just as working with an ATS and their distribution channels keeps your entire candidate management flow in one simple environment, the same should be true for your job seekers on the other side. Many applicant tracking platforms have an "Easy Apply" integration, the result of a collaboration with their partners to create one environment where candidates can apply to jobs, instead of jumping between sites and getting lost in a detached apply flow after they decide they're ready to send in their resumes.
"The best way to ensure a smooth apply process and user experience is to go through the steps yourself", suggests Winfrey. Understand who your candidates are and where and how they're applying to your jobs. Go through the full process on mobile and desktop to identify where improvements can be made and identify potential application hurdles.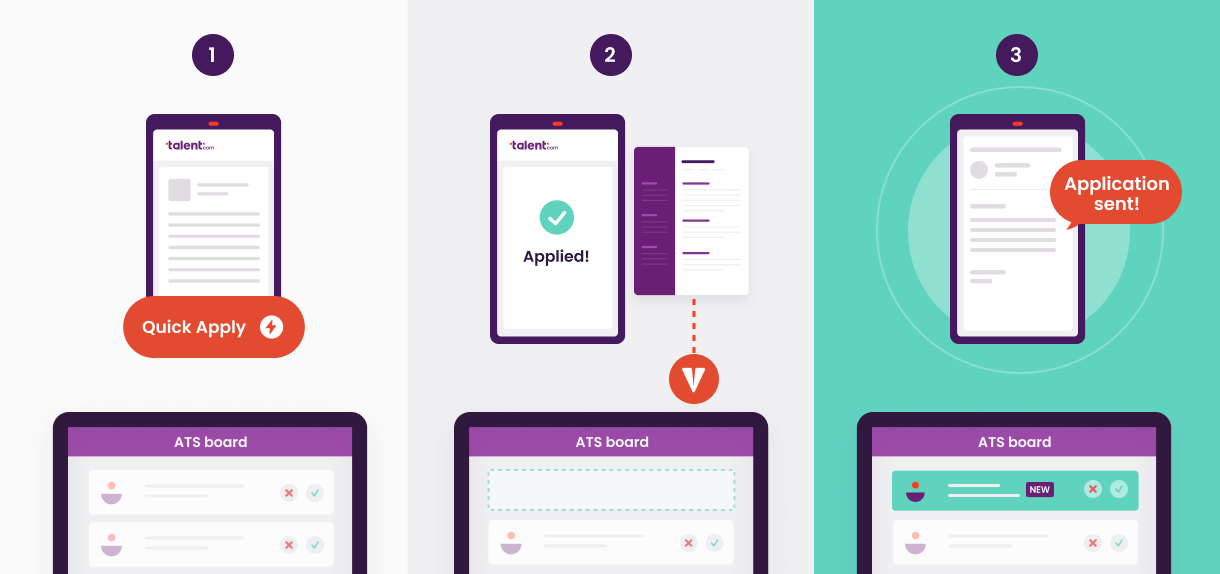 If your ATS has proper apply integrations in place, this means when candidates click "Apply" on the advertising source, they can easily and relatively quickly apply to the job in the same environment in which they originated. It's almost as if your career site itself is gaining visibility and exposure on new sites that you do not need to pay for or manage yourself. This is key since, if a candidate is rerouted too many times during the apply process, the chance of their resume landing in your ATS is "reduced by maybe 95%," says Winfrey.
Not only does having a seamless apply process on the user experience side help reduce candidate drop off and improve your overall cost per apply, it also helps with apply transparency as you can see the entire apply flow and source origin from start to finish within your ATS dashboard. You can track the journey of each candidate because when they submit their resume through the partner's integrated apply, "that application is then attached to the requisition within your organization's career site," says Winfrey.
What Can You Expect From Your ATS?
Companies are constantly working to streamline their business processes and, for the busy recruiter, a smooth apply flow is essential. Your ATS can help you increase your efficiency in managing candidates from resume uploads, to candidate screening, to final selection. Also, as detailed above, distributing multiple jobs through your ATS is a convenient, more streamlined process, versus working with a multitude of advertising partners.
Simply by outlining your needs and goals with your ATS and working together to get the best exposure for your jobs using their integrated partners, you will see higher conversion rates, a better ROI which results in a reduction in your overall costs per apply (CPAs).
Conclusion
The whole idea isn't to reinvent your work, it's to simplify your day by having all aspects of the recruitment flow handled through one environment, your ATS dashboard; from job distribution to integrated apply, to candidate management. From first impressions all the way to onboarding, it can all happen on a single platform.

About Talent.com
Talent.com is a leading job search and recruitment platform available in 78 countries. We help you post jobs, craft personalized digital campaigns and track performance to reach your hiring goals. On this blog, we use our industry expertise to inform and guide you in the development and implementation of your recruitment strategy. Follow us on LinkedIn or subscribe to our blog to get the latest scoop on job seeker interest, hiring news, job market trends and talent acquisition technology. Looking for advice to maximize your recruitment ROI? Contact our team of experts today.
Related articles
Press release

In the increasingly competitive landscape of online marketing recruitment, every detail counts. More and more companies find that despite having a gre...

Press release

For job seekers just like for recruiters, time is of the essence. Having to write the same information they have carefully put on their resume in mult...

Press release Technology

These days, businesses are in fierce competition for the best employees. Making the right hire is no easy task, but it can be simplified by prioritizi...
Get exclusive industry analysis, reports and inspirations directly to your inbox!