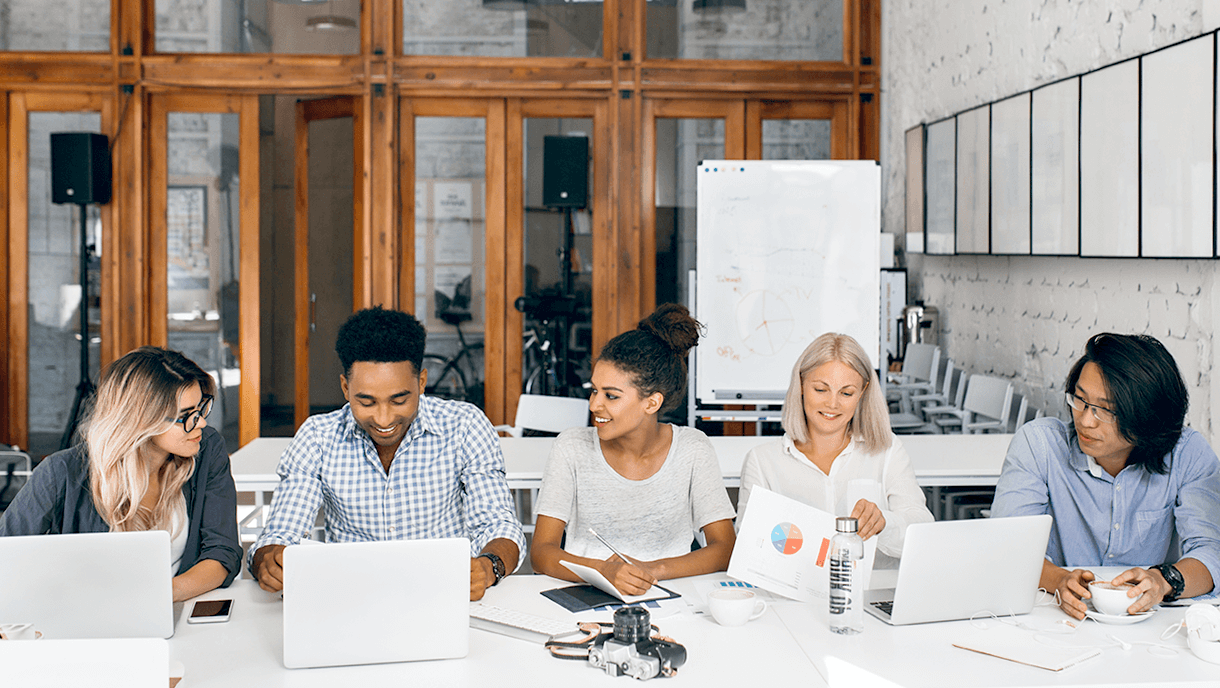 The benefits of having an international workforce are tried and true, but how does a company attract and develop such a team? In today's global economy, most companies are talking about or wanting to be more globally oriented. Being able to communicate with clients around the world in their native languages helps businesses grow, but first you need the right people who understand, think and speak in these other languages and cultures.
Tailor Your Job Descriptions for International Candidates
Attracting the right candidates starts with your job postings. Work into your "What You Bring" section of your job ads that you need people with lots of stamps in their passports and list the languages in which your ideal candidate should be proficient.
You can also showcase in your offering as an employer any international attributes of your company, such as how many nationalities make up your workforce and how many languages can be heard around the office.
"When I recruit, especially in the US, a lot of candidates ask me right away about diversity and inclusion at our company," says Natalie Loop, Head of Talent Acquisition at Talent.com. "It's important for recruiters to understand that candidates care about this and are curious to understand if the company culture is conducive for these global citizens."
Word of Mouth: A Key Strategy
One readily available resource for finding these unique candidates is at your fingertips—your own people! Talk to your employees when opening new positions to see if they can refer people from their network.
"We've recently onboarded a few new recruits and they've all referred their friends for the positions that are currently open," says Loop. "I think the beauty of the situation is that once you start going international, it's easy to maintain the momentum through employee referrals."
Another resource to consider is universities if you are located in a city that does not have much appeal for international workers as cities like New York, London or Paris do, recommends Greg Deleneuville, Head of Operations EMEA and Partner at Talent.com. Without large international companies bringing in a more diverse workforce to your city, your local universities may have programs that attract international students who you could become potential hires.
How to Spot a Great Candidate Before the Interview
You can filter through your applicants in advance by checking if the candidate has studied, worked or volunteered abroad on their resume. This experience is an indicator of a more open mind and someone who has had access to, and actively shown initiative in cultivating experiences with different languages, cultures and ways of life.
Also take note of the trajectory and locations of their jobs. They may have experience working with international teams even though they never left their city, details of which might crop up in the description of their roles and responsibilities.
Tricks for Evaluating Candidates During the Interview

One easy way to test for these desired abilities is to switch languages during your conversation, or enlist the help of a colleague to ask a few questions in the other language and assess. You also need to ask yourself, is having a native speaker important or is fluency good enough for the job at hand, says Deleneuville. For a sales type job, fluency is fine, but you are "probably going to miss out on some potential sales," he adds.
For example, while the Talent.com office in Lausanne, Switzerland is ideally situated to attract a diverse workforce, there are still challenges. Situated in the French part of Switzerland, it's not always easy to find German native speakers says Deleneuville. Add to this the fact that while Swiss-German speakers understand German from Germany, "they would prefer to do business in Swiss-German," he adds.
However, it's not just about language. Candidates gain a lot more from international experiences than just a new way to communicate. It's "about being adaptable, about being ready to work in different cultural environments," says Deleneuville from his experience working in Lille, Chicago, Montreal, and now Lausanne. Finding candidates who are from or who have lived in other countries gives them knowledge of the nuances of different cultures, which they can bring to the table when speaking to or dealing with expectations of customers and clients from various parts of the world.
What International Employees Expect from an Employer

If you want to attract and build an international workforce, you need to be prepared to handle their expectations and needs. A first hurdle would be any logistical support needed for a new employee to immigrate or return to the job location. If they are returning or new to the country or city, they may also be looking for a full benefits package that takes care of their needs.
As these employees are already open to other languages and cultures, they will expect nothing less of their managers. They will expect an open and accepting management style to be part of the company culture and may also be accustomed to diversity in the larger sense of age, gender, ethnicity, etc.
"We often tell candidates that we are a North American company that was founded by European co-founders," says Deleneuville about Talent.com. Early in the hiring process he showcases this global environment and culture to entice candidates as well as to manage their expectations, as language skills will be regularly used and collaborating with team members across time zones and continents will be part of the everyday.
The Benefits of a Multilingual International Workforce
The advantages and benefits international employees bring to your company are compelling. Candidates who speak multiple languages are often high performing workers who can easily switch between tasks just like they do languages. This flexibility and elasticity of mind translates to more efficient workers who can process information quickly, adapt to change with ease, and think and innovate by bringing fresh perspectives to your business. Your company's activities spread across multiple markets? An international team is an ideal setup to monitor trends and emerging practices as it will offer you internal insights into your industry.
The caveat is that you need to be ready structurally for such a diversity of employees. Use current talents in your company to learn about what makes it attractive in their country. The information they give you can help you better craft your job postings. Ensure new opportunities are shared with them so they can spread the word: nothing tops a great reference. Look back at your Employer Value Proposition and make sure it works for all your locations while being universal enough to unite your workforce.
COVID-19 and increased remote work have forced companies to reevaluate their communication flows so that everyone remains aligned, from the office or from home. This is a great time to start expanding your frontiers and welcome new talents from different horizons.
About Johanna Donovan
Subscribe to our blog
Get our latest blogs and content sent directly to your inbox!
Related blog articles
European Wax Center (EWC) is part of a national franchise in the health and wellness industry. One of its owners, with twelve stores all located withi...

The hot topic in the HR tech industry these days seems to be Programmatic Platforms and for good reason! These are amazing platforms that can alleviat...

Pre-Interview Prep Before you even think about interviewing potential candidates, there is some invaluable pre-interview prep that should be completed...
Subscribe to our blog
Get our latest blogs and content sent directly to your inbox!