Despite recent workforce turbulence caused by the pandemic, the job market remains predominantly candidate-driven. This means that job seekers essentially have the upper hand when it comes to choosing where to apply and where to work. In this highly competitive environment, how can you stand out from the rest? By knowing your target and adapting your job offers to their specific characteristics.
In this article, we are taking a closer look at distinctive Millennial features as they pertain to the job market and examining the best ways to attract this generation to your organization. But first of all, who is a Millennial? According to Pew Research Center, anyone born between 1981 and 1996 is a Millennial. They are innovative at work, great at multitasking and, above all, they make up the largest portion of the American labor force, which makes them the coveted targets of many recruitment strategies.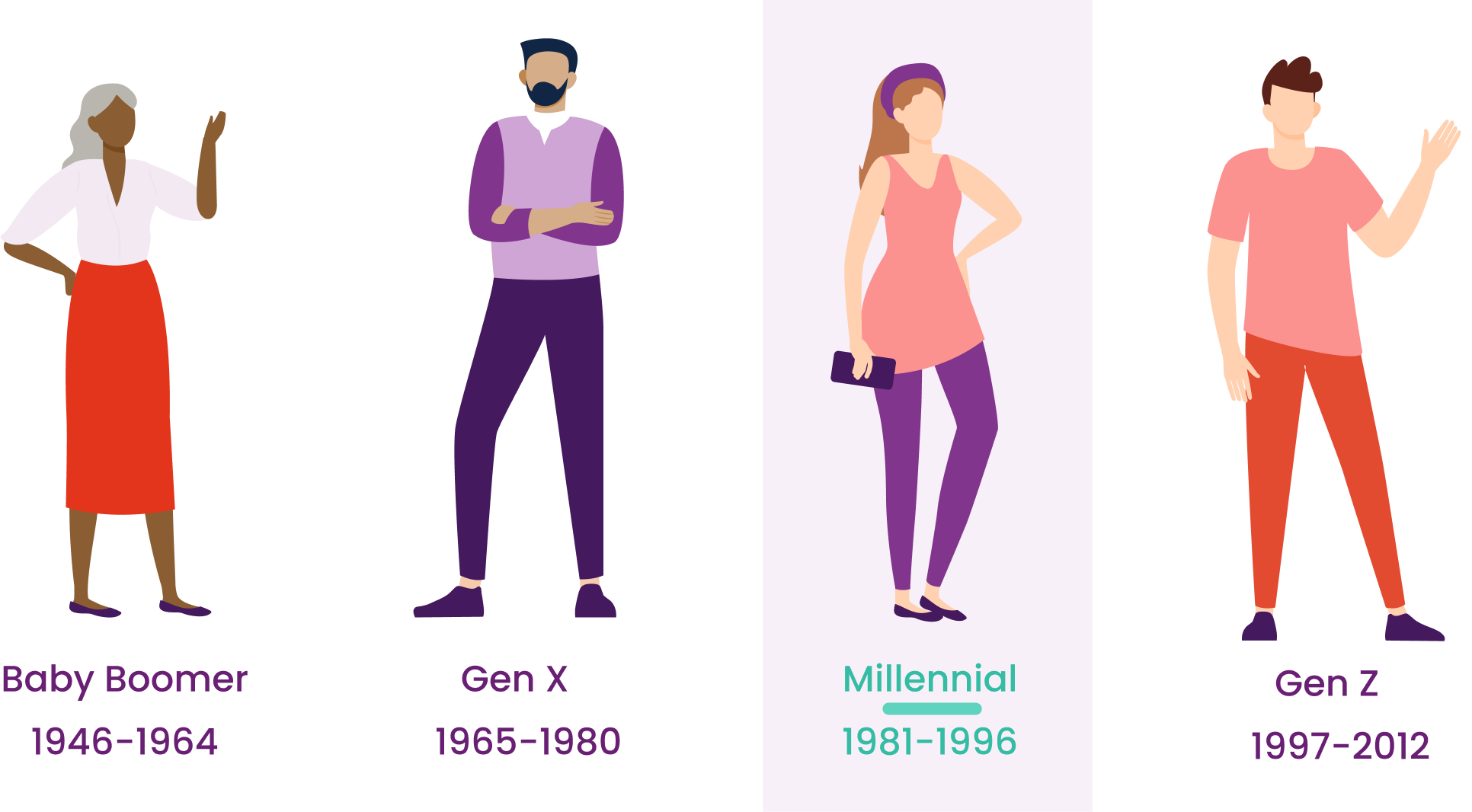 And here's what top Millennial talent is expecting from you:
It's all about mobile
93% of Millennials own smartphones. Unsurprisingly, they also surpass their older generational counterparts in social media usage and daily phone screen time. With this is mind, it is crucial for recruiters to develop and establish a functioning mobile recruitment strategy. Failing to do so can mean losing out on a lot of opportunities, as 19% of Millennials are smartphone-only internet users and don't have broadband internet service at home.
Check your career site
If you are hopping on the mobile train with hopes of getting Millennials to apply to your jobs, start with your career page. Every one of its design elements should be mobile-optimized. A single-column layout combined with a thumb-friendly menu, foolproof formatting and simplified CTAs usually does the trick.
Pick the right network
The network through which you share your job vacancies should also be easily accessible via a smartphone. If you are trying to hire fresh graduates or gain visibility among the youth, make sure the job boards or other platforms where your jobs are displayed are also mobile-optimized.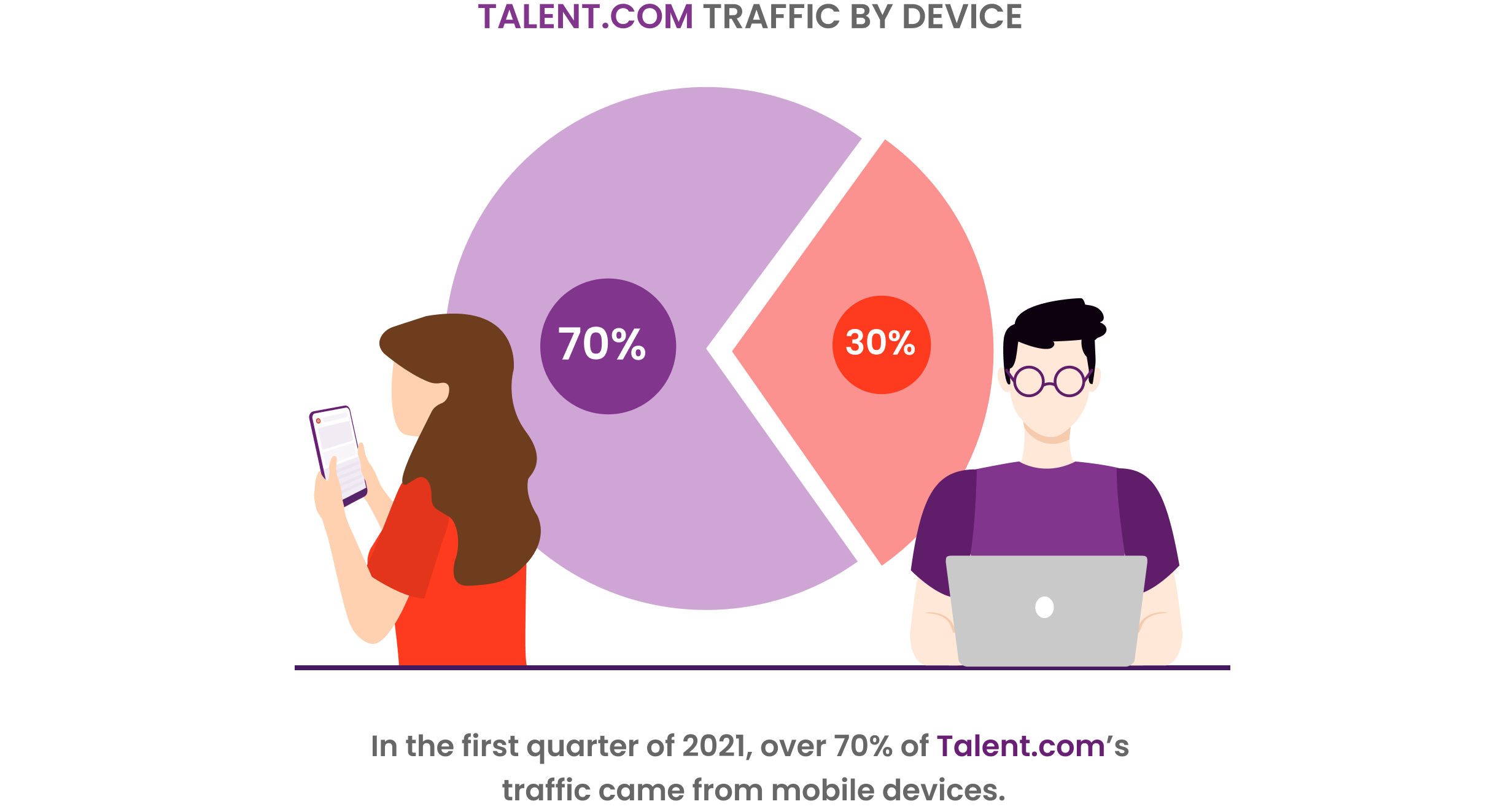 Consider social media advertising
The biggest part of recruitment marketing is knowing where your target is and communicating with them at the right time and with the right language.
In 2019, McDonald's, one of the biggest employers of Millennials around the world, launched a recruitment campaign on Snapchat. Upon seeing themselves in a McDonald's hat thanks to an augmented reality filter, users were enticed to apply to America's favorite restaurant in just a few clicks. The huge success of these "snapplications" was largely due to the campaign's gamification aspect and McDonald's ability to speak their candidates' language. When recruiting a younger crowd, dare to try new ideas and dip your feet into uncharted territory.
Modernize your company culture

Millennials want to make the world a better place, and they want to grow within an organization with similar aspirations. The perfect place of employment for the average Millennial is:
environmentally friendly
socially responsible & aiming for sustainability
conscious of racial & gender inequalities among its ranks & dedicated to fix them
taking a formal stance on diversity, inclusion, and equity that reflects current societal evolutions
committed to shaping a more diverse, inclusive, and equitable future overall
Go beyond salary



Evidently, a competitive salary is appealing to all candidates regardless of generational distinctions. When it comes to additional job perks, here are some elements to include in a benefits package to make it truly mouth-watering for the side parts and skinny jeans generation:
Debtless is the goal
Due to a rise in cost of living and the ramifications of past economic recessions, the average Millennial is not completely financially liberated. According to a recent Business Insider survey, Millennials still rely on parents for money, and struggle to pay off student loan debt. For these reasons, a comprehensive employee benefit program that includes student loan repayment assistance is likely to increase Millennial interest your organization.
Think of the furry friends
When compared to older generations, Millennials are behind on life milestones such as buying a home, getting married, and starting a family. However, 70% of them are pet owners. Consequently, if you aim to raise the number of Millennials among your ranks, it could be a good idea to offer pet insurance, "pawternity leave" or a pet-friendly office.
Other sought-after perks
Currently, healthcare coverage is a must. Millennials want to be not only insured but also informed about their rights and options, as healthcare is a topic of great importance to them. Also, say goodbye to rigid work schedules. Accustomed to a what some might consider a carefree lifestyle, most Millennials expect to be able to work from home at least some of the time and find flexible hours to be a major plus.
Conclusion
Attracting Millennials to your company is no Herculean task. You just need to reach them where they already are and display an open-minded vision for the future that aligns with their own. As the pace of Boomer retirements keeps accelerating, Gen Z has started graduating university and is entering the workforce at full blast. These changes will surely continue to shape the job market in the coming decades. Until an eventual Zoomer takeover, Millennials will remain the backbone of the labor market for some time. And as the talent acquisition industry is finding new ways to accommodate candidates, you can count on Talent.com to analyze and report on recruitment marketing trends.

About Talent.com
Talent.com is a leading job search and recruitment platform available in 78 countries. We help you post jobs, craft personalized digital campaigns and track performance to reach your hiring goals. On this blog, we use our industry expertise to inform and guide you in the development and implementation of your recruitment strategy. Follow us on LinkedIn or subscribe to our blog to get the latest scoop on job seeker interest, hiring news, job market trends and talent acquisition technology. Looking for advice to maximize your recruitment ROI? Contact our team of experts today.
Related articles
Employer branding Recruitment Strategy

Lately, most industry talks revolve around Employee Value Proposition (EVP), but do you know what it is and what it stands for? If your answer is "no"...

Candidate Insights

In this candidate-driven job market, understanding job seekers' motivation is key. If you want to attract top talent, boost applications and be ahead ...

Trends Candidate Insights

In the current economic context, finding qualified candidates can be challenging. All elements of a company's EVP have the power to attract job seeker...
Get exclusive industry analysis, reports and inspirations directly to your inbox!