In the last years, we've witnessed the rise of many social movements defending the rights of minorities and amplifying the voices of underrepresented people. The progress made by society is reflected in the job market, where an increasing number of job seekers value a company's commitment to diversity when evaluating potential employers. In the spirit of combatting discrimination and fostering intercultural dialogue, recruiters today must work towards reducing inequality in talent acquisition practices and ensure no one is disqualified or discouraged from joining an organization based on their gender, nationality, age, sexual orientation, ethnic background or a disability they might have.
Establishing a work environment where everyone feels included may not be the easiest task, but everyday practices can foster significant changes. Here are 4 steps oriented around diversity & inclusion that recruiters can take:
Conduct an audit of current hiring processes
Your first step should be observing past and present hiring approaches to detect strengths & weaknesses when it comes to diversity & inclusion. Take a look at potential actions or habits that you as a person or your organization as a whole might be doing to hinder the applications, hires or promotions of women and people of color. Advertisements, job descriptions, applications, resume screening methods and interviews are all areas of the hiring process that could need improvement. Being aware of which stage of the talent acquisition funnel repels your target candidates will allow you to allocate funds and resources to the right places, essentially optimizing your efforts.
Doing this on a recurring basis is preferable, as it will make it possible for you to adjust your strategy to changing times. You can also watch what the competition is doing right and model your strategy accordingly.
Detecting our own unconscious biases and learning how to eliminate them is the first step towards building a more diverse workplace and a more inclusive society overall.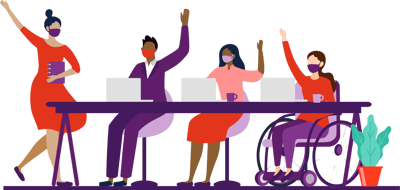 Identify the right metrics to track progress
When it comes to improving diversity & inclusion in hiring practices, many companies with good intentions fail to fulfill their grand objectives. This is because their ambitious agenda lacks specificity. To reach big targets, small and clearly defined performance indicators are needed. Ask yourself: "What SMART goal could my organization establish and attain in regard to diversity & inclusion hiring?". This smart goal could be achieving 50/50 gender parity among executives or hiring 15% more people of color in corporate departments within the next year, for example.
Keep in mind that the goals guiding your diversity & inclusion strategy will depend on the particularities of your organization and industry. And while it can be tempting to want to change everything, it's better to find one or two area of improvement per quarter or per year and focus on that.
Being data-driven allows recruiters to identify challenges and measure improvements with precision and accuracy.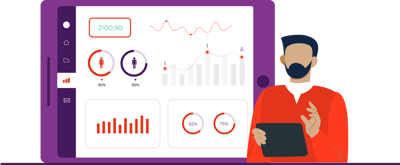 Check job descriptions
Nowadays people are wanting to see themselves reflected in the content they consume, and this desire applies to the job seeking experience as well. That's why wording is important. Job seekers are more likely to apply for a position if they can easily identify with its description. And this could be hindered by involuntarily exclusionary language.
When writing a job description, there are some things you want to avoid. If possible, abstain from using gendered pronouns such as "he" or "she" and opt instead for "you", which is more neutral and more direct. When trying to be as inclusive as possible, consider using the phrase "all genders" rather than specifying "men and women".
To increase the presence of underrepresented groups among your ranks, you want to write all job descriptions in such a way that no one feels excluded or uncomfortable.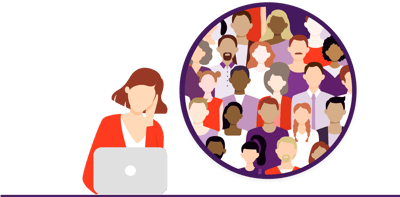 Showcase diversity in business communications
Do the pictures and videos currently featured on your website and social media accounts primarily contain people appearing to be Caucasian, young, attractive, straight and able-bodied? If so, try to incorporate more diversity in future content. Remember that when showcasing workplace diversity, authenticity is the way to go. So, if possible, favor publishing real pictures of your team members over stock images, as the use of the latter is often conspicuous.
Annual events that highlight the contributions of women and minorities to history and contemporary society such as Black History Month or International Women's Day are great opportunities to elevate the voices of people who might be underrepresented among your ranks. The recurrent nature of these celebrations allows you time to craft a thoughtful, profound, well-edited and impactful message with potential to become viral and help transform our culture into a more inclusive one.
Representation matters. So if you are looking to attract a diverse pool of candidates, make sure your corporate content is aligned with your ideals.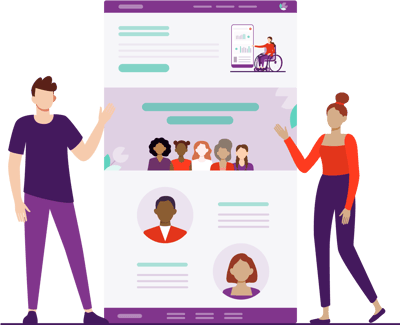 Conclusion
In summary, here are 4 steps any recruiter can take to help attract candidates of diverse backgrounds and build increasingly inclusive teams:
First, review your current hiring strategy through the lens of diversity & inclusion. Then, determine which diversity & inclusion metrics are most relevant for your organization and use them to track your progress. Also, remember to be mindful of gendered language in job descriptions. Lastly, you can communicate your commitment to diversity & inclusion via authentic pictures, text and videos.
When looking for a more diverse talent pool, consider using the services of a programmatic platform or an ATS. To learn more about this topic, read the compelling story of the health & wellness leader that recently partnered with Talent.com to diversify its traffic sources.

About Talent.com
Talent.com is a leading job search and recruitment platform available in 78 countries. We help you post jobs, craft personalized digital campaigns and track performance to reach your hiring goals. On this blog, we use our industry expertise to inform and guide you in the development and implementation of your recruitment strategy. Follow us on LinkedIn or subscribe to our blog to get the latest scoop on job seeker interest, hiring news, job market trends and talent acquisition technology. Looking for advice to maximize your recruitment ROI? Contact our team of experts today.
Related articles
Diversity and Inclusion

International Women's Day is a great time to celebrate the women in your workforce and inspire a push for more diversity overall. Hiring, appreciating...

Budget

We're hijacking the three R's of the waste hierarchy (reduce, reuse and recycle) used to improve waste management processes and programs, and spinning...

Case Study

Marriott is an American multinational company that operates, franchises, and licenses lodging including hotel, residential, and timeshare properties. ...
Get exclusive industry analysis, reports and inspirations directly to your inbox!