Are you struggling to get qualified candidates in your industry with your usual recruitment methods? If so, it's time to broaden your hiring strategy. Waiting for talent to show up at your door isn't going to cut. You must be proactive and start sourcing passive candidates.
A passive candidate is someone an employer is considering for a certain position, but who is not actively seeking a new position. Most passive candidates are content with their current position but could be open to switching jobs should the right opportunity arise. Making up 70% of the working population, passive candidates often have industry experience and sought-after skills, making them interesting to recruit, particularly in technical fields and tight markets facing labor shortages. They might not be sending resumes, but thankfully there are many ways to reach them. And you will have the added bonus of less competition! It's all about knowing where to find them and how to talk to them.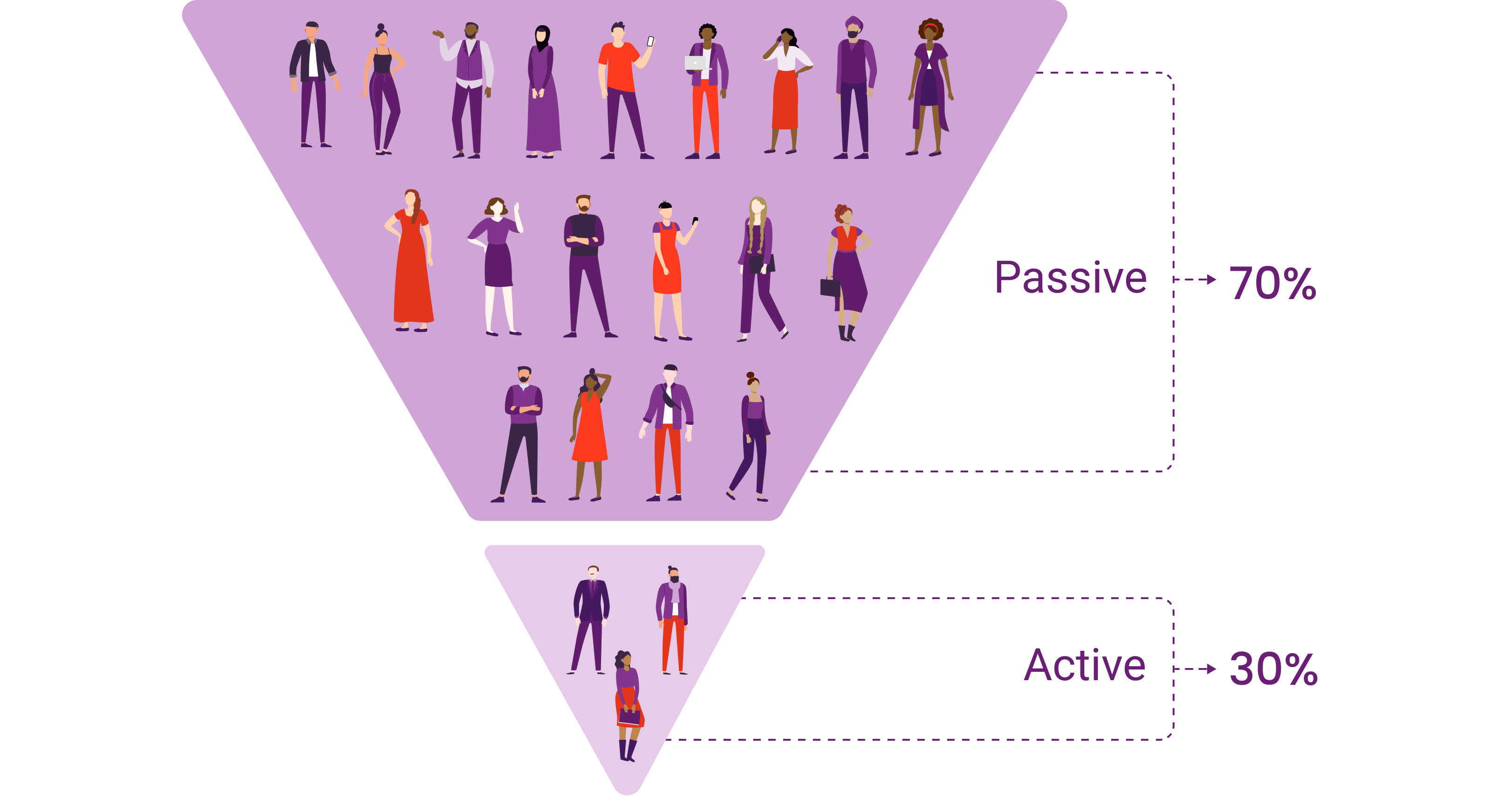 The nine following elements will help you attract passive candidates:
A strong employer brand
When trying to attract passive candidates, your reputation is important. Remember, they don't need your job opportunity, but you need their skills. Aim to make a great first impression, not just a good one. What are your strengths as an employer? What makes you stand out? Which of the following elements does your organization master and want to be known for?

Once you decide which elements to focus on, market your company accordingly. Market it so well that even people who are not looking for a job know about your strong points. Showing off your employer brand online and offline will have a positive, long-term impact on your ability to attract passive candidates and grow you candidate pool. Examples of long-term employer branding efforts include supporting local causes, participating in events or discussing topics relevant to your target audience.
Recognition as a great employer
Being featured in employer rankings can enhance your reputation as a great place to work.
These rankings are based on employee polling and periodically published in business newspapers, where passive candidates can see them. Forbes' "Best Employers" list is among the most famous, but smaller-scale ones and local ones exist too. In order to be featured, you can nominate your company on the publication's website.
Direct messaging
When reading about direct messaging for recruitment, most people probably think of LinkedIn. As the world's largest professional network, LinkedIn has proven itself to be a robust recruitment tool. However, candidates' inboxes might already be swarmed with recruiters. Passive candidates who receive tons of messages and job offers on LinkedIn might not open yours, let alone respond. Reaching out to passive candidates on a less popular platform among recruiters (such as WhatsApp, Instagram or Telegram, depending on your target audience) can make you stand out.

As a tip, make sure each message you send is unique. That way, you avoid getting flagged as spam and can build authentic relationships with candidates. Remember to also keep it short and efficient, as mentioning the true strengths of the role or company straight away will help you get a response. Asking a question in the subject line of your message is a good idea, since you want to pique the interest of the candidate early on. As a closing line, you can let the candidate know that if they are not interested in the position, they can refer you to someone else in their network who might be. These tips apply to email communications as well.
Paid social ads
In this day and age, paid advertising is crucial to recruitment. A bit of research and a bit of testing can let you know which social media platforms are most used by your target audience. Run hiring campaigns on there. You can create enticing ads to showcase your employee value proposition, your company culture and your current job openings. The incredibly precise and advanced targeting options that come with paid ads allow you to reach a broader audience and easily redirect passive candidates to your career page.
Networking
Did you know that word-of-mouth is the most powerful marketing tool? If your current recruitment marketing efforts are not convincing passive candidates to join your ranks, try talking about your company and mentioning your open positions casually in different professional and non-professional settings. You can also encourage your team do so the same, which brings us to our next point:
Referral programs
Another great way to attract passive candidates to your organization is to establish an employee referral program incentivizing both your long-time employees as well as your freshly unboarded employees to refer others. Your credibility as an employer can be enhanced in the eyes of qualified workers if they discover your organization through someone they already know and trust. What's more, referred employees tend to stay longer and perform better.
Automation tools
A large number of employers are using applicant tracking systems and predictive technology to source passive candidates. Algorithms crawl the Internet to parse and score candidate data such as resume content and social media activity. Based on this information, AI systems are able to predict which passive candidates are more likely to join your organization. You can then have a better idea of which candidates to prioritize. As AI gets better at determining the success of hires, you can supplement your manual sourcing techniques with automation tools to attract the right passive candidates.

Simple application process
Your application process should be as simple as possible. That way, if a passive candidate does land on your job ad, they can easily apply and are not discouraged. The reality is that when applying requires an overwhelming number of steps, applicants tend to give up. Put yourself in a passive candidate's shoes and review your current application process. If it lacks a mobile version or is fraught with unnecessary or redundant steps (not to mention potential bugs or malfunctions), it's time to declutter, modernize and simplify it. Stick to the basics. For an optimized process, you can work with a job platform that offers on-site quick applications.
Partnerships with experts
Even if your career page is great and UX-optimized, chances are most passive candidates won't land on it. You want your job openings to appear on different websites. To help you get more visibility and reach an elusive audience, you can team up with a strong partner and use their existing network. A specialized staffing firm or a job platform can help you better target your search and attract passive candidates. Job platforms such as Talent.com have extensive databases and large volumes of monthly clicks. They also have industry knowledge, skills and experience, as well as desire, time and ability to share it with you.
Conclusion
There is no shortcut for engaging passive candidates. It is a continuous process, a long-term investment that demands regular attention, time and effort. It's all about having the right tools, getting your name out there, establishing a presence as a great employer, using the right channels and putting your energy to good use. And since passive candidates are an asset to the long-term well-being of your company, it's worthwhile to include the 9 tactics described above in your hiring strategy.

About Talent.com
Talent.com is a leading job search and recruitment platform available in 78 countries. We help you post jobs, craft personalized digital campaigns and track performance to reach your hiring goals. On this blog, we use our industry expertise to inform and guide you in the development and implementation of your recruitment strategy. Follow us on LinkedIn or subscribe to our blog to get the latest scoop on job seeker interest, hiring news, job market trends and talent acquisition technology. Looking for advice to maximize your recruitment ROI? Contact our team of experts today.
Related articles
Employer branding Recruitment strategy

Lately, most industry talks revolve around Employee Value Proposition (EVP), but do you know what it is and what it stands for? If your answer is "no"...

Employer branding Recruitment strategy

We've said it before and we won't get tired of saying it any time soon: we're living in a time where the job market has shifted in such a way that emp...

HR marketing

Prior to the onset of the COVID-19 pandemic, a large portion of the international workforce was already working from home. To this day, the remote wor...
Get exclusive industry analysis, reports and inspirations directly to your inbox!